Winter Lecture Series: The Restoration of John Paul Jones' Ship, "Providence"
March 3
@
1:00 am
–
3:00 pm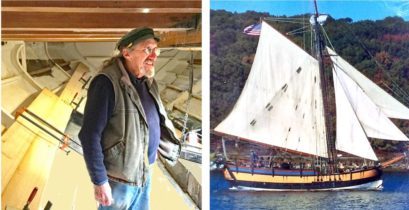 The final presentation in the Lincoln County Historical Association's 2019 Winter Lecture Series will commence at 1:00 pm on Sunday, March 3rd in the Communications ("911") Building behind the Lincoln County Court House in Wiscasset. (In the event of inclement weather, the lecture will be postponed to the following Sunday, March 10th.)
Master shipwright Leon Poindexter will speak on the iconic ship-of-war Providence, which was commanded by Continental Navy hero John Paul Jones. Mr. Poindexter is currently directing the restoration of Providence's full-scale replica, at the Wiscasset waterfront. The restoration is expected to be completed in spring.
Mr. Poindexter has done similar work on the Boston Tea Party ships, U.S.S. Constitution, and numerous other vessels. As well, he directed shipboard sets for the 2003 film Pirates of the Caribbean, in which the Providence replica played a starring role, and he himself appeared onscreen and in the credits.
Coffee and pastries will be served. Suggested donation is $5.00.