The Pownalborough Court House and the Lincoln County Museum and Old Jail are open this summer!
Two of our properties will be re-opening this summer! To help our volunteer docents plan and organize tours, we are encouraging visitors to make advance reservations, though walk-ins will also be welcome. To keep our docents safe, masks are required for all visitors.
The Pownalborough Court House will be open Saturday, Sunday, and Monday from 10-4 from Memorial Day (May 31) to Indigenous People's Day (October 11). To make a reservation for a tour at the Court House, please call Chuck Vaughan at 207-549-7850.
The Lincoln County Museum and Old Jail will be open Saturday and Sunday from 12-4 from July 3 to October 2. To make a reservation for a tour at the Jail, please call Christine Hopf-Lovette at 207-522-6397.
The Chapman-Hall House remains closed at this time.
ABOUT LCHA
The Lincoln County Historical Association (LCHA) was founded in 1954 by noted local artist Mildred Burrage. Our mission is to collect, preserve and interpret the history of Lincoln County, Maine, which once extended from Brunswick to Canada. Key to our work is the stewardship of three historic buildings: the 1761 Pownalborough Court House in Dresden, the 1811 Old Jail in Wiscasset, and the 1754 Chapman-Hall House in Damariscotta.
Our three museums feature collections of textiles and costumes, tools, furniture, baskets, housewares, photographs, maps, manuscripts, and other ephemera that help to tell Lincoln County's stories. The buildings, with the help of our docents, also tell real human stories, of law and order, crimes and punishments, and the lives of residents as our towns became settled communities.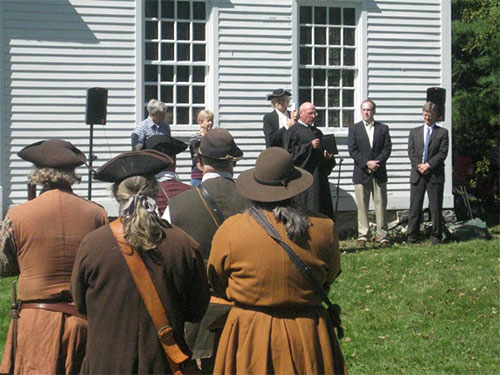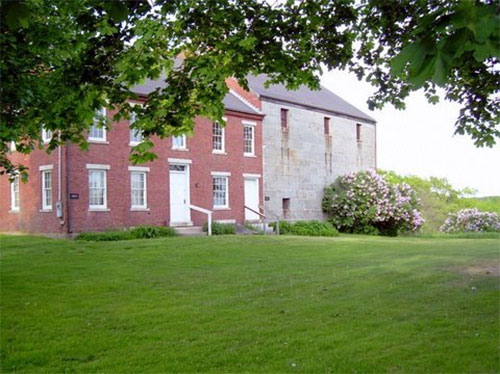 LCHA MUSEUMS
1761 POWNALBOROUGH COURTHOUSE DRESDEN
Designed by Boston architect Gershom Flagg and built in 1761 by the Kennebec Proprietors for the newly created Lincoln County, the Pownalborough Court House received such notable visitors as John Adams, Benedict Arnold, Robert Treat Paine, William Cushing, Reverend Jacob Bailey and two future Massachusetts governors: David Sewall and James Sullivan. Numerous trials were held here, including that of Judge North which was featured in the Pulitzer Prize winning book, The Midwife's Tale by Laurel Thatcher Ulrich, based on the diary of local resident Martha Ballard (1735-1812).
1811 OLD JAIL WISCASSETT
The 1811 Old Lincoln County Jail in Wiscasset, with attached 1839 Jailer's House, offers visitors a rare view into an earlier criminal justice system and the lives of the people who enforced and endured it. Displays in the front parlor and dining room change year by year, but the 19th century kitchen, where the jailer's wife had to cook for up to 50 prisoners in addition to her own family, is always on view. Visitors leave with a real sense of the hard work that came with being the jailer's family, the hard life of the prisoners and the odd juxtaposition of family life and criminal incarceration.
1754 CHAPMAN-HALL HOUSE DAMARISCOTTA
Built in 1754 by housewright Nathaniel Chapman, of Ipswich, MA, the residence is not only the oldest building remaining in Damariscotta, but is also considered one of the oldest standing homes in the State of Maine. Chapman constructed the residence at the age of 51 and lived there until his death, at age 101, in 1804. The people who first lived in this house would have been subjects of the King of England because the house was built nearly twenty-five years before the Revolutionary War.