Enslavement in Maine
March 30 @ 5:30 pm

-

7:00 pm

EDT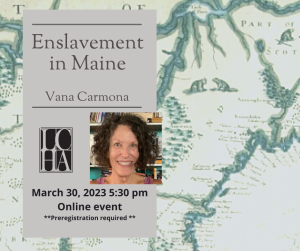 Preregistration (below) is required to receive the Zoom link for this program.
Learn some of the lesser told stories of our past with an overview of enslavement in Maine, beginning in the 17th century and describing its expansion in the state over two hundred years. She'll share stories of individual enslaved people, and bring to light some of the people who experienced slavery in what is now Lincoln County.
Vana Carmona is the founder of The Prince Project, a database of over 2000 people of color who lived in Maine prior to 1800. She began researching enslavement in Maine eight years ago after she discovered that several of her ancestral New England families enslaved people of color and were also complicit in the slave trade itself. Because of her grandmother's interest in genealogy and history, she had always known that she had descended from a number of early New England settlers. But it was only recently that Vana discovered the role they had played in enslaving kidnapped Africans.
Vana has also given presentations on her work to various local historical societies and schools and is a docent/guide for several historic sites in the Portland area, including Maine Historical Society and Spirits Alive (Eastern Cemetery, the oldest public burial ground in Portland, Maine, it has two sections of African American graves). She is a graduate of Sarah Lawrence College, and completed her Masters of Liberal Arts (focusing on Medieval History) at California State University/Sacramento.
This talk is free, but please consider a donation to help our dual goals of offering high quality programs to the public and continuing our mission of stewardship for our three irreplaceable historic buildings.
The Zoom link for this remote talk will be sent one day before the event to the email address included in the form below.
Please register using the form below. After registering, you should see a confirmation page indicating that your registration was successful. You will not receive a confirmation email, so please take note of your confirmation screen.
The link for the talk should arrive in your email the day before the talk. In some cases, you may need to check your spam folder or filter settings to make sure you can accept emails from lchamaine1954@gmail.com.
Enslavement in Maine Vana Carmona