"My fingers on the canvas move.": A History of Textile Samplers with Susan Jerome
September 25, 2021 @ 3:00 pm

-

5:00 pm

EDT
Quickly now, what do you think of when someone begins to speak of a sampler? Words of wisdom, often from the Bible, stitched on to a piece of fabric? The alphabet, in capital and small letters, embroidered in a cross-stitch in both cursive and block letters? And one form of needlework often signed by the maker, unlike so many other kinds of needlecraft made by women before the twentieth century. This program explores the ways in which samplers are a part of American culture and folklore. Using images of antique samplers, Ms. Jerome discusses some of the definitions and ideas surrounding the word "sampler." What pictures come to mind? How has the term evolved through time? Ms. Jerome explores how textile history and technological changes in fabric production influenced the slow demise of samplers during the 19th century.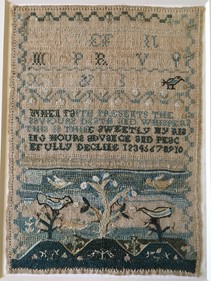 Susan J. Jerome is the Collections Manager at the University of Rhode Island Historic Textile and Costume Collection. She earned her MS degree from the URI Department of Textiles, Fashion Merchandising and Design. Ms. Jerome works as a textile conservator and consultant for private clients, museums and historical societies. An avid textilian, she is happiest when writing, talking and doing all things textile.
Participants will:
Learn about textile history and how the development of cheap cotton fabrics influenced sampler making in 19th century America.
Explore the different meanings of the word "sampler" and why sampler making today is considered to be a "leisure time" activity.
Learn how to properly store textile heirlooms for future generations.
Learn something about family samplers.
Be able to ask questions relevant to textile and sampler history.
The talk will take place on September 25, 2021 at 3:00PM at the Pownalborough Court House. The Court House is located at 23 Courthouse Rd, off Rte. 128 in Dresden.
Interested? Of course you are! This event is free and open to the public, but we encourage those planning to attend to email lcha1954@gmail.com for planning purposes.