Thank you for an awesome year (so far)! Attendance is up, membership is up, and there is a buzz of excitement all around us – excitement about local history and heritage accompanied by a recognition of how many more stories we have yet to uncover, preserve, and share. We know that we couldn't have done any of this without our members, supporters, and volunteers. Thank you. LCHA is a multifaceted organization. Check out some of the highlights from a few of these facets: Each of our three historic houses.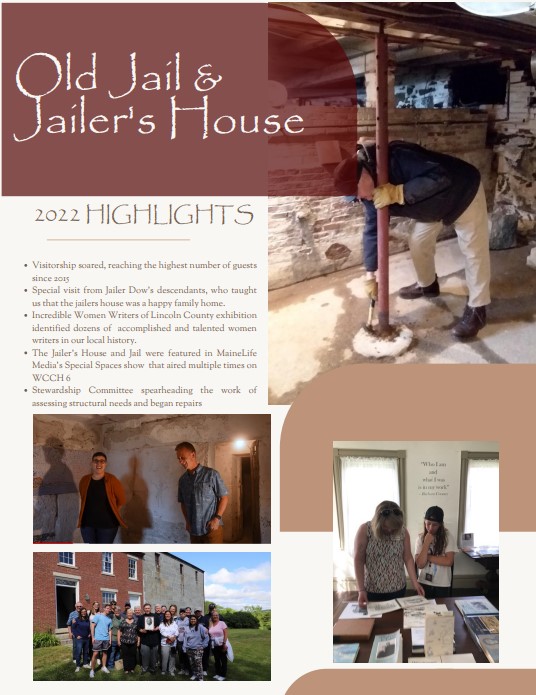 t's a good thing to have too many highlights to count, isn't it!? Read on for more:
–Last winter, we hosted two incredible Black History Month lectures: one from Bob Greene, on Maine's Black History, and one from James Tanzer, who shared his research into the life of Quash, a Black man in 18th Century Lincoln County. Both of these talks were highly attended and tremendously successful in sharing untold and undertold stories of Black history with a wide – and appreciative – audience.
–We are so happy to report that our membership is up! The number of total members is up by 58% compared to last year – highlights include 23 new family memberships and impressive growth in the $100 Supporting Member category!
–We launched Women Writers of Lincoln County in the spring, thanks to a generous grant from the Raymond McKinley Rideout Jr. Marguerite Waterman Rideout Fund of the Maine Community Foundation.
Independent researcher and LCHA volunteer Alice Smith Duncan spent months delving into the topic and ultimately produced an amazing exhibition, displayed at the Jailer's House in Wiscasset. Dozens of talented and influential women writers, from journalists to poets, children's authors to Pulitzer Prize winners, and more, have called Lincoln County home. At our exhibition organized by Smith Duncan, guests began to learn about this tremendous local legacy.
In addition, we were pleased to host a number of engaging lectures related to the topic. We heard from Kate Flora, New York Times Bestselling Author Elizabeth Letts, Alice Smith Duncan, Gary Lawless, and Jefferson Navicky, with Navicky joining us thanks to a Maine Speaks program grant from Maine Humanities Council. We hosted two special children's story and craft time events that shared local women written books with children who explored our heritage of amazing women writers.
The Women Writer's of Lincoln County exhibition was so successful that we plan to display it again in 2023. Come back next summer for newly discovered information and additional interpretations!
–September's Preservation Party was a fun and well-attended evening organized by tireless and hardworking volunteers who executed their perfect vision for the event. We raised well over our goal and, thanks to a spontaneous matching pledge from Paul and Sharma Schaknow, we raised the necessary funds to supplement the Belvedere Historic Preservation Grant we recently received to support exterior painting work needed at the Pownalborough Court House. It was an incredible evening with smiles all around from people dedicated to community and preservation.
–In October, the Trustees invited volunteers to enjoy a cruise on the Damariscotta River as thanks for their efforts. A good time was had by all as we enjoyed the river and good company. Trustees and staff want volunteers to know that their efforts are deeply appreciated and that we wouldn't have nearly as many highlights to cover without them!
–Last Friday, a large turnout of members gathered at the Maine Tasting Center in Wiscasset for our Annual Meeting. President Ryan LaRochelle introduced the slate of new officers for next year and called for a vote that resulted in election of the following new officers, set to start their terms in January 2023: President – Robin Grant, Vice President – James Tanzer, Secretary – Perry Palmer, and Treasurer – Bill Brewer. At the same meeting, we were sad to say goodbye to President LaRochelle, who has concluded his term with us. Ryan has been an effective and successful leader. With professionalism, policy, and goal-setting at the forefront of his agenda over the last year, Ryan leaves the LCHA board in a stronger position than it was when he started. We are all grateful for his leadership and will miss his delightful personality and friendly demeanor. LCHA thanks Ryan and wishes him all the best as he settles into his new home!