Beaded Cushion
---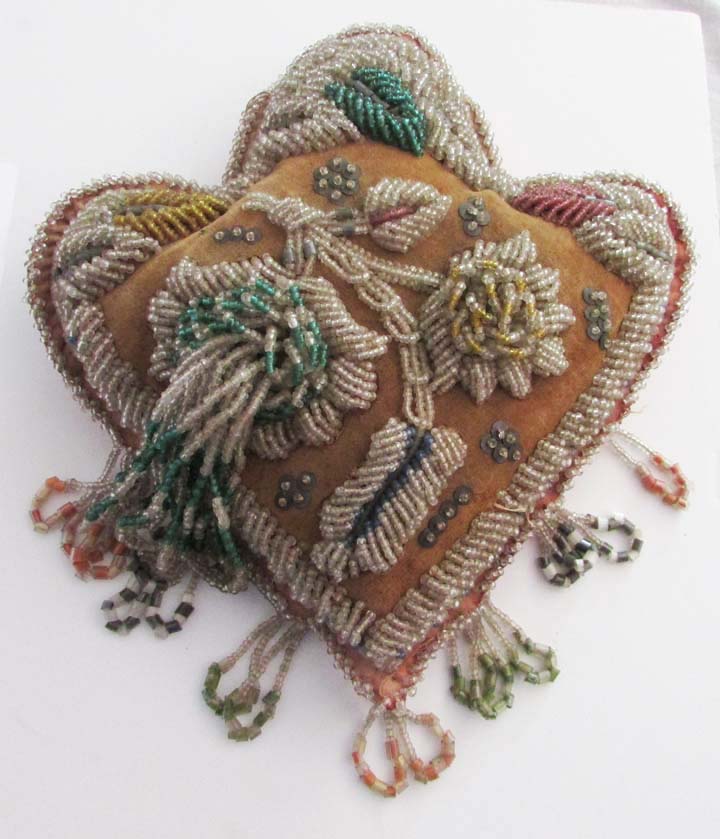 In the textile collection at the Chapman-Hall House is a lovely beaded, heart-shape cushion. The cushion was not a Chapman or a Hall family piece, yet to whoever it belonged it was most likely a favored souvenir of a trip to Niagara Falls.
Native American bead decoration is a very old art, the skilled bead workers used a variety of natural materials to make the beads. That all changed for the Six Nation Confederacy (tribes located in what we now know as Northern New York and neighboring Canada) when glass beads were introduced to them in the 16th Century. Jumping ahead to the 19th Century souvenir bead work pieces, of which the one pictured here is an excellent example, became a source of needed income. (Please insert photo) Artistically working and designing new patterns on a variety of shapes, the height of these souvenir pieces popularity was between 1890 and 1920.
Of the Six Nations (Iroquois Confederation – Seneca, Tuscarora, Oneida, Cayuga, Mohawk, Onondaga), Tuscarora and Mohawk are considered the styles easiest to recognize. Based on descriptions of Tuscarora work, the piece held in the Chapman-Hall collection appears to be of Tuscarora work because one of the distinguishing features of their work is the "layering" of beads. This technique was used when designing the cushion pictured, as seen in the two flowers. Sequin and bead combinations were commonly used by all the Native bead workers. By the middle of the 19th Century, clear and white beads dominated the work of the Tuscarora, as well as the Seneca and Cayuga. Niagara Falls was the important market for Tuscarora, Seneca and Cayuga bead work pieces because it was one, if not the premier tourist destinations in the United States during the 19th and early 20th centuries with the advent of the automobile. Iroquois bead work became an intrinsic highlight for many visitors to Niagara Falls.
Louise Miller, LCHA Education Director