Roundabout Chair
---
This seemingly unusual chair design was actually surprisingly popular in the English-speaking colonies of North America during the 18th century. Examples exist in various styles charting the evolution from the turned examples of the William and Mary period through the Queen Anne mode defined by its cabriole legs and vase shaped splats. The latest and most elaborate examples are in the Chippendale mode with its scrolled splats and cabriole legs terminating in claw and ball feet.
Our chair is a fairly rustic example with its turned legs and ladderback splats indicating that it represents the William and Mary style. Made of maple and probably ash (for the splats) chairs of this period would almost invariably be painted black.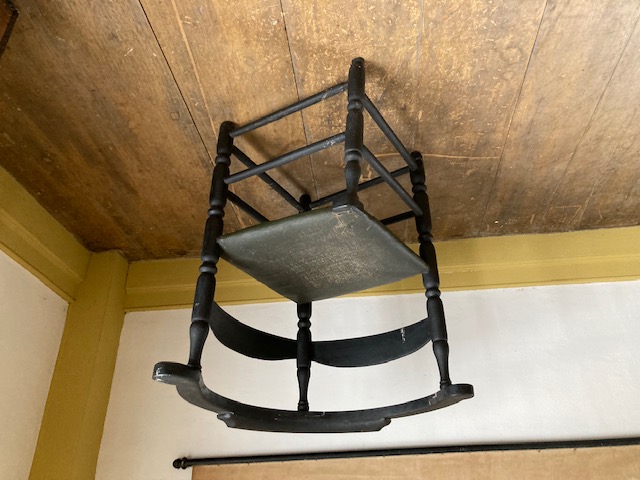 It may date from about 1720-1740 but could be later because country fashion often lagged behind that of the most prosperous seaports where current London fashions were adopted considerably earlier. During the Queen Anne and Chippendale periods more costly hardwoods such as walnut and mahogany were preferred to feature the striking wood grain and beautiful color of the wood.
As one can see from the back with its scrolled arms and added central unit this chair served a specific purpose. With its front leg projecting forward it could partially slip under the extended lid of a slant-top desk thereby enabling its occupant to use the flat lid as a writing surface. In so many words, this was a gentleman's chair which enabled him to prepare his business with efficiency and comfort. Moreover, should he be interrupted, our gentlemen could easily turn to face his visitor without having to move his chair.
A further feature of the roundabout chair, not so obvious to a viewer of our times, is the fact that wealthy gentlemen of the colonial era wore long, heavy jackets which, when unbuttoned, would fall to either side of the sitter without encumbrance. A fitting example of such sartorial elegance may be found in Robert Feke's Portrait of Brigadier-General Samuel Waldo of about 1748 now at the Bowdoin College Museum of Art.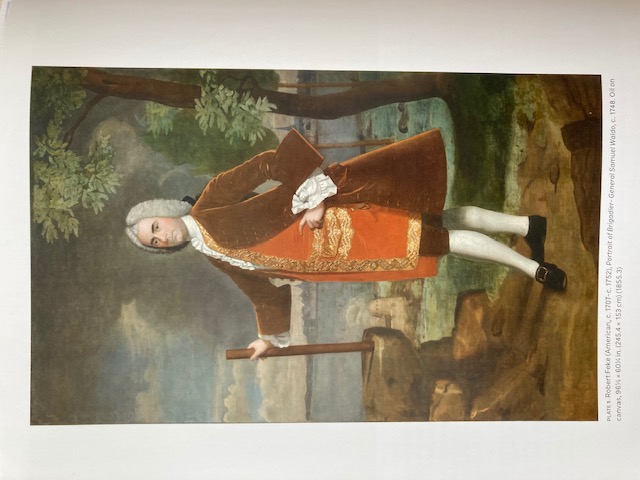 George Keyes, LCHA Collections Committee