Chest of Drawers
---
This early 19th century chest of drawers is one of a long line of similarly conceived types of case furniture that were ubiquitous in 18th and 19th century homes. They were designed to house personal clothing and precious objects including textiles. Most consist of four drawers usually graduated with the shallowest drawers above and the deepest below. Moreover, the case was elevated off the ground by the four feet, or in this case, legs at each corner of the case. Not only would this prevent damp from invading the contents of the drawers but would also discourage rodent activity.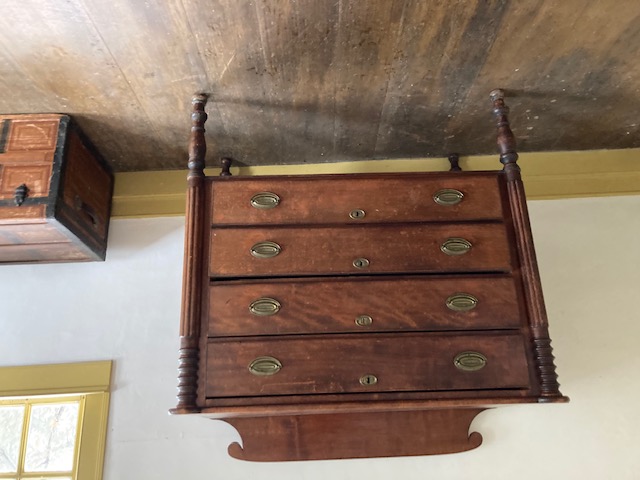 Our chest of drawers is in the Sheraton style, inspired by the cabinetmaking manual of Thomas Sheraton, an English furniture designer who, along with George Hepplewhite, dominated English Regency furniture design. Their style was soon popularized in the New Republic during the Federal period from about 1790 until 1820. Such furniture supplanted the more massive and weighty Chippendale antecedents. Not only did Federal furniture look lighter but it weighed considerably less as well because of the widespread use of mahogany veneers. Such veneers were applied to the much lighter white pine supporting wood of each drawer front. Likewise, the sides and top of the frame of the chest employed much thinner sheets of costly secondary wood such as mahogany than would have been employed during the earlier 18th century.
Almost invariably the drawers of such pieces of furniture had locks. The mistress of the house was the keeper of the keys. This may initially seem strange for such pieces of domestic furniture but it must be remembered that families, even those of modest means, often had house servants.
For a long period of time the United States was a beacon of hope for those wishing to better their circumstances. As a result, immigrants flocked to the new world and many began their odyssey by becoming indentured servants which secured them food and lodging for a fixed period of time before they were free to establish themselves independently.
Not all garments were placed in chests of drawers. One of the singular changes in domestic interiors during the Federal period was the introduction of closets. These not only contained shelving but also places to hang garments as well.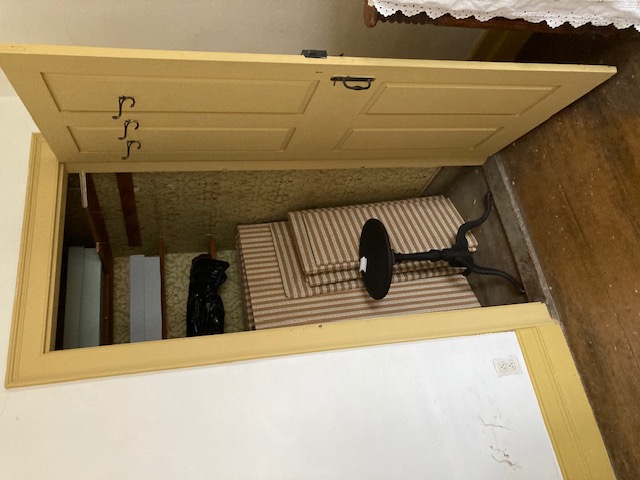 George Keyes, LCHA Collections Committee