Rediscovering Madam Sally Wood, Maine's First Woman Novelist
July 6, 2022 @ 6:00 pm
EDT
Alice Smith Duncan will speak about Madam Sally Wood via Zoom on Wednesday, July 6th at 6pm. Registration is free/by donation.
REGISTRATION BELOW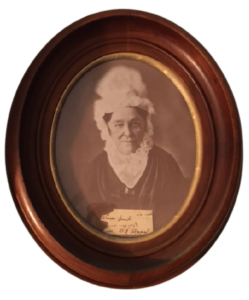 Sarah "Sally" Sayward Barrell Keating Wood published her first novel in 1800 under the pseudonym "A Lady of Massachusetts." After Maine became a state in 1820, she changed her pen name to "A Lady of Maine." The prolific writer became a leading and popular social figure in Wiscasset, actively engaged in local society and benevolent activities.
Copies of her books are exceedingly rare. After she discovered the novels of Sir Walter Scott and modestly finding them superior to her own, she decided to retract all undistributed copies from her publishers and libraries. Since the 1960s, she has been the subject of feminist scholars, and rediscovered by literary historians and critics to international acclaim.
Alice Smith Duncan, an independent researcher, writer, lecturer, and longtime Lincoln County Historical Association volunteer, has curated three prior exhibitions for LCHA: "First Efforts of an Infant Hand: Early Samplers from Lincoln County" (2001), "On Eagles' Wings: 19th century Symbols of Patriotism" (2002), and "Dungeons and Dragons, Sailors and Jailors: The Language of 19th century Sailors' Tattoos" (2017), as well as art and history exhibitions for Arkell Museum (arkellmuseum.org) and many history sites and associations in New York's Mohawk Valley. The former Executive Director of Hyde Hall, she wrote "Sir Francis Drake and the Struggle for an Ocean Empire," and is currently at work on a memoir of her mother's life in 1940s Maine and Greenwich Village, and a biography of 19th century artist/historian Rufus Grider. Duncan has been awarded grants, fellowships and residencies from the New York State Council on the Arts, Columbia University, the Moravian Archives, Salem Art Works/Salem2Salem (New York and Germany), the Snow Foundation, the New York History Association, and the Decorative Arts Trust.
REGISTER FOR ZOOM TALK HERE: